Here are more Women of the Bible blocks
As promised, here are the rest of the Women of the Bible blocks that I've done. I am behind in the blocks, but it has been such a learning experience doing these and the study.


This block is for Eve - the colors I chose were to represent the bright green of the Garden of Eden, the darker green is the path that Eve, Adam, and the Lord walked in the garden. The bright yellow is for the newly created sun and of course there is that square for "in the midst of the garden."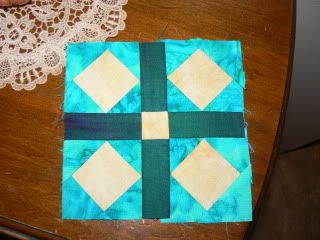 This block is for Sarah - Abraham's wife - her name means princess. I chose fabric that I thought looked like an Indain princess - there is some fairy frost in there.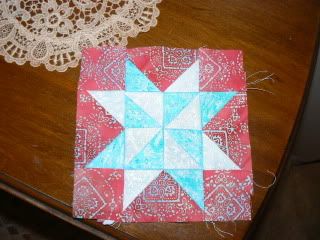 This one is for Hagar - the block is called Wandering Foot. The background was chosen to simulate the desert , the rose and light green to simulate new hope. Hagar was a slave - probably acquired when Abraham went down to Egypt. She is taken from her family, a slave, she has no control over her life, her body and she is sent to die out in the desert because she has born a son to Abraham. But God is faithful and rescues her.


This block is called Cross Roads - for Lot's Wife. I chose bright, vivid, rich colors to show her desire to remain in Sodom and Gomorrah. She had a decision to make: obey the words of the angel and live or look back towards the life that she wanted and die. We know she was turned into a pillar of salt so following her own will led to her destruction - the bright red and yellow speak of fire and brimstone.


This block is Welcoming Hand - and represents Rebekah. The blue at the center of the block symbolizes the water that she drew for Isacc's servant - a sign that she was the chosen bride of his master. The bright pink is in the shape of a cross to show that "the promise of the covenant" was still to be fulfilled in the children that she and Isacc would have.


I'll add more later. Gotta go sew.